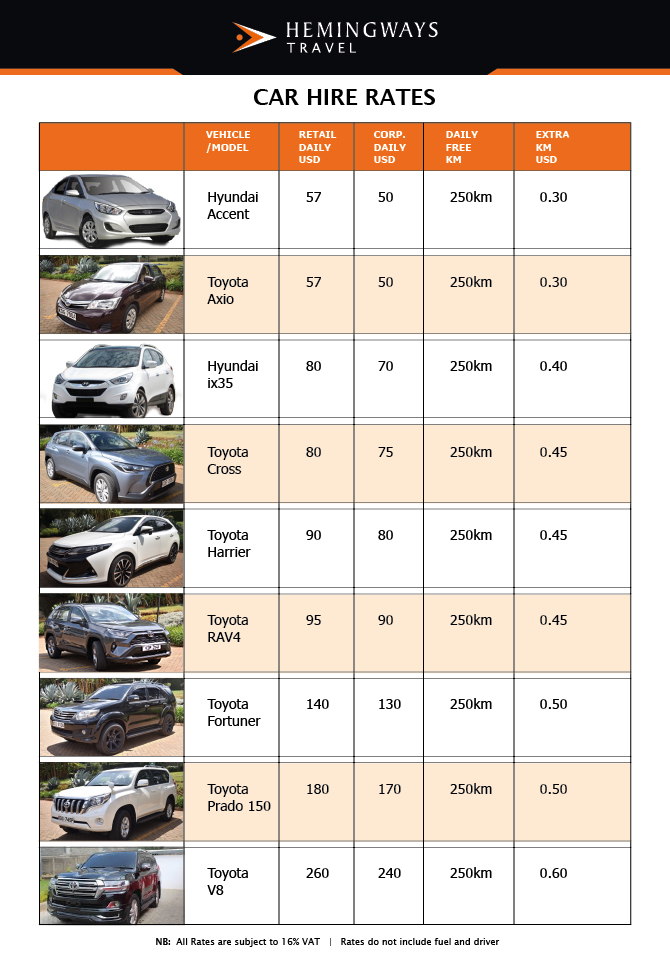 RELIABLE, COMFORTABLE & COST EFFECTIVE
Renting or leasing a vehicle has never been easier, through Hemingways Travel's Rental and Leasing Division. Our Clients are assured of working with an organization that is reliable, cost-effective and factors in your comfort, safety and security.
We have a wide range and modern fleet of vehicles, providing our clients with a wide variety of options to choose from. We specialize in the following
1. Daily Rentals
2. Short Term Rentals
3. Long Term Rentals / Leases
The above options can be taken either on self-drive basis or chauffer driven basis. Reach out to us for more information regarding how we can assist you with your car needs.
Our Car Services Divsion also specializes in airport transfers in Kenya and in the destination of travel. We provide scheduled airport transfer services to our clientele. At our disposal we have 32 wholly owned vehicles, and we have sub-hire agreements, for back-up purposes in the event our fleet capacity is stretched. Our base is at Jomo Kenyatta International Airport, where we have a license to operate our vehicles from, this means that in the event you have any last minute arrivals at the airport, your travelers are not inconvenienced. All transfers are properly scheduled and the pick- up and drop-off times are communicated to the traveller at least 24 hours.
All drivers undertaking transfers are uniformed in light blue shirts, black trousers, and have two photo Identification cards comprised of a Hemingways Travel Staff Badge.
Benefits of using our Car Services
Defensive Driving Training – as our client, you are guaranteed of working with a team of professional and knowledgeable experts. Our drivers have all undergone the "Defensive Driving Course" to equip them with the best techniques and knowledge of driving around and within Nairobi and its environs. At Hemingways Travel we regard the Safety and Security of our customers to be of the utmost importance.
Thorough Background Checks - We vet our drivers prior to hiring them. The drivers we hire are experienced, mature and responsible. They are all uniformed for easier identification. All drivers possess valid certificates of good conduct, driver's license, and are medically insured.
Modern Fleet – With a wholly owned Fleet comprises of 32 vehicles, you can be assured that our fleet of vehicles are in excellent condition. All the cars undergo regular mechanical inspection. All certifications inclusive of PSV license, Road license, Comprehensive Insurance are valid. Our vehicles are Dealer Maintained, and most of them have been purchased brand new.
Global Standards – as our client you benefit by working with an organization governed by global standards and operating according to global industry best practices. Having managed the Europcar Franchise for 30 years, means that you are guaranteed of an excellent professional service that reflects global standards.
Financial Strength - Our Company has a strong financial base, and a strong balance sheet, and given that vehicles can be a heavy capital investment, in the event your car rental needs increase and we need to purchase more vehicles, you can be guaranteed that we have the financial strength to increase our fleet to meet your demands.
Fleet Management System – Our vehicles have inbuilt tracking devices, through which we have reporting capabilities. we are able to know where each and every vehicle is and we have real time information regarding our fleet.
24 Hour Availability

& Convinience

– Our Base is at Jomo Kenyatta International Airport, where we operate a 24 Hour Service. Should any of your travelers require a vehicle outside our standard business hours, then they can receive round the clock assistance.
Regional Partners – we provide ground transportation services to our customers in the region through our affiliate partners who have been vetted. Given that our global presence, we will utilize this network to ensure that we provide international and regional transfers or car hire requests to our clients.
Travel Industry

Accreditation